KBW Series Plant Growth Chambers
Product Announcement from BINDER Inc.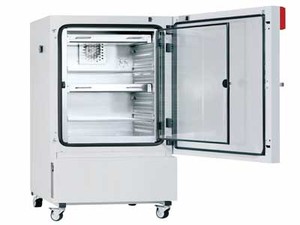 Precision combined with maximum dynamics. KBW exceeds any requirements with respect to optimal lighting and temperature conditions for exactly defined culture processes. Extremely short reaction times keep all growth parameters in equilibrium - natural simulation as never before. Handling is truly enhanced by the integrated real-time clock function in the controller.
Electronically controlled APT.line™ preheating chamber assuring temperature accuracy and reproducible results
Temperature range 0 °C up to 70 °C (32 °F up to 158 °F) without illumination and 5 °C up to 60 °C (41°F up to 140 °F) with illumination
2 variable positioned illumination cassettes with 5 daylight illumination tubes, each, in steps switchable (for KBW 240/8.5 cu.ft.), 3 variable positioned illumination cassettes with 5 daylight illumination tubes, each, in steps switchable (for KBW 400/14.3 cu.ft. and KBW 720/25.4 cu.ft.)
The patented illumination system assures an unique homogeneous light distribution
MP controller with 2 programs with 10 sections each, alternatively switchable to 1 program with 20 sections

Integrated week program timer with real time function
Adjustable ramp functions via program editor
Digital temperature setting with an accuracy of a tenth of a degree
Adjustable fan speed
Elapsed time indicator

Access port Ø 30 mm (1.18 inch), left side
Inner glass door
Independent adjustable temperature safety device class 3.1, providing full protection against chamber over-temperature, with visual and audible temperature alarm
Environmentally friendly refrigerant R 134a
RS 422 interface for communication software APT-COM™ DataControlSystem
Adjustable intervals for printer
Stainless steel racks included
BINDER test confirmation
---