Ultra low temperature freezer - ULTRA.GUARD
Product Announcement from BINDER Inc.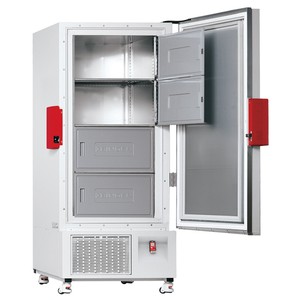 The BINDER ultra low temperature freezers ensure safe long-term storage of up to 52.800 samples at -86 °C. The UF V series is based on a multi-layer security concept, meeting any laboratory staff's needs beyond expectations. The ULTRA.GUARDTM is available in two sizes: with a volume of the inner chamber of 500 l (17.06 cu.ft.) as well as 700 l (25.12 cu.ft.).
Quick links:
UF V series | Maximum Process Safety
Safe and convenient operation
GUARD.CONTROL
- Personalized access control with RFID key card
- Complete user log
- Simple data read-out through RFID reader
- Door mechanism for easy opening and closing at the push of a button
Simple data management
DATA.SECURE™
- Temperature recording via data logger with USB connection
- Ease of integration into the security / alarm infrastructure
- Integrated PT 100 for independent data recording
Reliable back-up service
SERVICE.PRO™
- 24-hour emergency exchange service (currently valid in G, F and GB)
- 24/7 Hotline service after online registration
- 2+4 (2 year warranty and 4-year extended warranty)
Easy maintenance and cleaning
- Easy front access for air filter cleaning
- Defrosting kit facilitates the de-icing process
- Height-adjustable castors
BINDER Environmental simulation chambers and climate chambers
At BINDER, you do not just get a CO2 incubator, material test chamber or cooled incubator. At BINDER, you get the exact chamber you need for your application in the laboratory.
Granted, we love details. We develop complex ventilization systems, which even when fully loaded result in completely homogeneous climate conditions for virtually any sample. Or we make your chamber independent of water supply and installation site. Whether a climate chamber with illumination, temperature test chamber, ultra low temperature freezer or heating oven: We guarantee you the best conditions for your success in science and industry.
View our detailed information on our extensive line of products below:
---