Direct Mount Automated Ball Valves
Featured Product from BI-TORQ® Valve Automation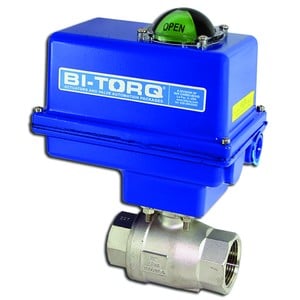 The full port IS-2P series from BI-TORQ Valve Automation is an economical stainless ball valve series that direct mounts to our pneumatic or electric actuators. The valves can also be used as a manual with a lever or mounted under a spring return "deadman" handle.
Offered in 1/4" through 3" the valves are rated to 1,000 psi and comes with NPT end connections. The series also comes standard with RTFE seats and TFE seals, perfect for a variety of services including ozone, oil, fuel, or steam up to 150 psi.
Additional Product Features
Blow-out proof stem
Adjustable packing
ISO 5211 mounting pad
For pricing or additional information call 630-308-9343 to talk one of our technical sales staff. We can also be reached by email at sales@bitorq.com.
Visit us at www.bitorq.com or check out our YouTube channel to see our full line of products.