Single Valve Source for Food Processing
Product Announcement from BI-TORQ® Valve Automation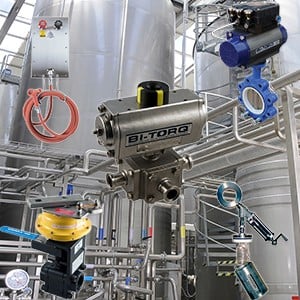 Food processing facilities should focus on production, not valves. If a streamlined inventory, cost savings and a single purchasing source for your valve, washdown equipment, safety valve, and sampling valve needs sounds appealing then a call to BI-TORQ should be in your immediate future.
BI-TORQ offers a full line of stainless, brass, PVC, and carbon steel ball valves, including our sanitary line. We also offer cast iron butterfly valves to complement. Additonally, we can also offer metric valves to fit on European equipment to drastically reduce lead time, save you money and keep the piping intact. Our automation options include a full line of electric and pneumatic actuators with all the necessary automation accessories to keep your plant running.
Our safety line includes spring return "deadman" handles, lock-out kits, fusible plugs and our flagship line of FM approved thermal shut-off valves for flammable media such as alcohol tanks or diesel tanks.
We can also help save money buy offering custom mounting kits and retro-fit actuation packages so your working valves can stay in line.
Keeping with our philosophy as a single source supplier, we also have, as a division of Strahman Valves, a suite of washdown equipment and sampling valves.
Contact us today at 630-208-9343 or at marketing@bitorq.com
---