Keep Flammable Media in Tanks from Fueling a Fire
Featured Product from BI-TORQ® Valve Automation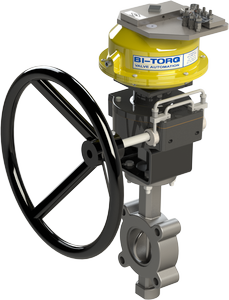 BI-TORQ® Valve Automation's HT Series is designed for 3" through 10" fire safe certified ball or butterfly valves with torques up to 1800 inch pounds depending on media, pressure and other conditions.
This series is ideal for customers who have plant-specified valves that they need to use. We have designed adapter kits for a number of the leading valve manufacturers in the world in order to create a high-quality safety package. Customer-specified valves are sent to our facility where they are assembled and tested by our experienced team.
We also offer the series as part of a package including a valve (FLP series). The HT series is sized for our 2-1/2" through 4" 150# flanged ED50/W50 ball valve packages.
Contact us for pricing or technical at sales@bitorq.com. If you need a model to fit into your plans, contact us at marketing@bitorq.com