Thermal Shut-off Valves for High Pressure Lines
Featured Product from BI-TORQ® Valve Automation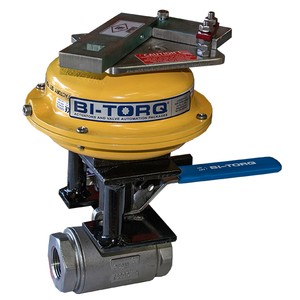 Need a product that will shut off critical points in your system during a fire? Does your system have high pressure lines? If so, BI-TORQ Valve Automation can help keep your facility safe.
Each FLP series assembly consists of two main components, a FM approved automatic thermal shut-off device and an API 607 fire safe valve. The automatic thermal shut-off device portion consists of a mounting kit, spring pack, arming device, and soldered fusible link. When the rated temperature of the link is met, the link halves will separate and allow the spring pack to drive the valve to a closed position.
The high pressure series is available 4" through 2" with NPT end connections and a stainless steel body. Delrin is the standard seat material with an option for PEEK.
Valve Features
API 607 fire safe certified valve
Stainless ball and stem
Full port design
Fusible Link Assembly Features
Stainless steel arming device
Links available in a variety of temperatures
FM approved
Individual soldered links are FM, UL, & c-UL
Contact us today at 630-208-9343 or sales@bitorq.com to get more information about using this product in your next application.