Maximize adhesion reliability - WEBINAR
Service Detail from BTG Labs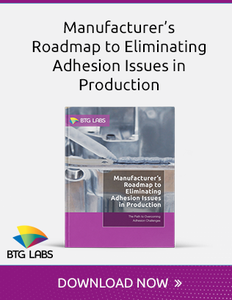 Surface preparation for bonding and coating operations include processes that are effective if implemented with proper process control feedbacks. This webinar presents a compendium of variables that have been uncovered during failure analysis of common bonding operations and shows how awareness of these variables permits implementation of simple process control steps that significantly increase bond reliability.
Register to view the webinar on your schedule

Register, attend and complete a brief survey to receive a copy of the e-book, "Manufacturer's Roadmap to Eliminating Adhesion Issues in Production"
And access in depth information on ways that BTG Labs equips manufacturers with the insight to reduce scrap, recalls and rework caused by adhesion failure.