BUMAX GREEN Super Corrosion Resistant Fasteners
Product Announcement from BUFAB USA, Inc.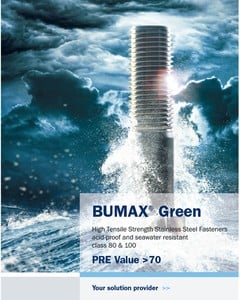 With BUMAX® Green, customers will have the most extreme protection in hazardous environments such as salt water and acids. Standard PRE values for 316ss of 25.50 and even a supper alloy such as Super Duplex PRE value of 40.00 can not match BUMAX Green's PRE value of 70. The closest Supper alloy compared to BUMAX Green would be HASTELLOY® C-276(PRE 68) but it doesn't have the Tensile or Yield strength of BUMAX. BUMAX is 20% stronger than this super alloy and has up to 2.5x the yield strength.
Lets Compare Materials
Product PRE (Avg) Tensile/MPa Yield/MPa
BUMAX 88 Green >70 800 640
BUMAX 109 Green >70 1000 900
HASTELLOY C-276 68.83 680 260
Standard 316 25.20 700 450
DUPLEX 34.00 800 570
Our BUMAX® Fasteners have an increased resistance against crevice corrosion, stress corrosion and intergranular corrosion in general compared to other fasteners made from 316 material. One of the reasons is the higher molybdenum content, as well as the low carbon content. By choosing a low carbon content material the risk of getting chromium carbide precipitation is significant reduced.
---