Stud and Stud Bolt
Product Announcement from BUFAB USA, Inc.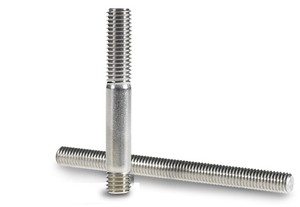 BUMAX is a range of stainless steel, acid-proof fasteners with very high strength. Due to their high strength, BUMAX products often enable significant improvements to constructions - not least, the possibility of considerably reducing the size and weight of fasteners and joints.
BUMAX 88 and 109 were developed to achieve yield and tensile strength values in line with those using grade 8.8 and 10.9 high tensile carbon steel fasteners. BUMAX also shows top performance far beyond the limits of standard fasteners. The advantages over conventional products are especially noticeable in extreme environments.
BUMAX 88 and BUMAX 109 are manufactured from an acid-proof austenitic material. The composition of this material is characterised by its low carbon content and a higher content of molybdenum, chromium and nickel. Laboratory tests and practical applications have shown that this special composition gives these products unsurpassed qualities in a number of vital areas.
We can manufacture special products with an ultimate strength of up to 1,700N/mm2 - there is no doubt that BUMAX lives up to its claim as "the strongest stainless steel bolt in the world".
---