MDS Programmable Shape Machine
Product Announcement from BUG-O Systems, Inc.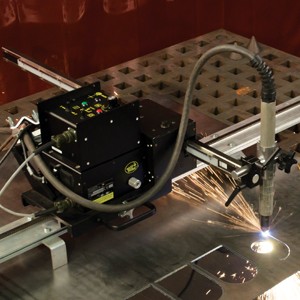 The Modular Drive Programmable Shape Machine is an easy to use 2-axis machine which you can program to run any contour or pattern for both welding or cutting applications. A handheld terminal supplied with the machine is used to program the required shape and operation sequence. Other functions besides moves can be programmed, such as repeats, starts, stops, delays, and rapid traverse. Twenty programs can be stored in machine memory at any one time.
An optional computer software program is available. With this program you can select pre-programmed shapes or create your own custom shapes, and store and edit any number of them on disk. Selected shapes can then be downloaded to the machine as needed.
The Modular Drive Programmable Shape Machine is compact and portable and can be easily carried throughout your facility or job site. The system can be configured to run on all types of Bug-O rail. It is held in position with either powerful permanent magnets or vacuum cups, depending on the work material. This enables you to take the machine to the work, which will help reduce your material handling.
Click here to view the Modular Drive Programmable Shape Machine Brochure.
---