Modular Drive System
Product Announcement from BUG-O Systems, Inc.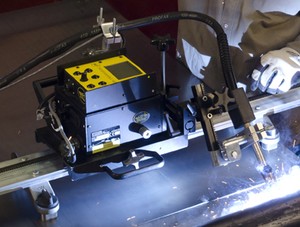 The Modular Drive System is the only product in the industry that allows the user to configure one machine for various automated applications, now and in the future.
The MDS produces precise, accurate cuts and welds. The Master Drive Unit has a high torque, low inertia motor for precise stops and starts and a dedicated fail-safe brake with three times the stopping and holding power of the motor. The unit is equipped with motor overload protection which turns the motor off and engages the brake whenever an excessive load is placed on the machine. In addition, the Master Drive features closed loop speed control for adjustable, repeatable control of critical welding or cutting parameters, and closed loop position control to prevent creep.
---