BACO Rotary Cam Switches with 10 Year Guarantee
Product Announcement from BACO Controls, Inc.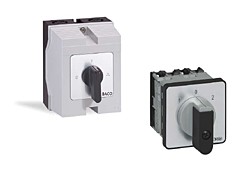 BACO's cam switches offer a customizable solution to your multi-position switch needs.
CAM SWITCHES
A range from 10A to 63A (panel mount or enclosed)
More than 50,000 different electrical diagrams available
Numerous specific functions and special engravings
A worldwide reputation of know-how for more than 50 years.
BACO products have a 10-year guarantee and are exceptionally reliable, which is why they are ideal for integration into systems that do not tolerate any failure (military, aeronautical, space exploration, medical research equipment, etc.). Moreover BACO product ranges offer ingenious and reliable solutions that are fast to implement.
---