Blancett® Model 1100 Turbine Flow Meter
Featured Product from Badger Meter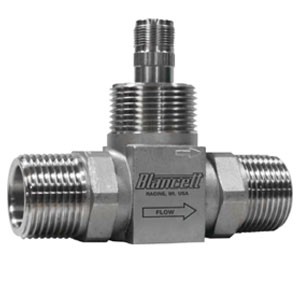 The Blancett® Model 1100 turbine flow meter from Badger Meter is designed to withstand the demands of the most rigorous flow measurement applications. Originally developed for the secondary oil recovery market, the Model 1100 turbine flow meter is an ideal solution for liquid flow measurement on or off the oilfield.
This meter features a rugged 316 stainless steel housing and rotor support assemblies, CD4MCU stainless steel rotor and abrasive-resistant tungsten carbide rotor shaft and journal bearings.
The Model 1100 turbine flow meter maintains measurement accuracy and mechanical integrity in the corrosive and abrasive fluids, commonly found in oilfield water flood projects and many industrial applications. When paired with a Blancett flow monitor, the Model 1100 turbine flow meter meets a wide range of measurement requirements. This makes it ideal for applications such as:
Pipelines
Production/injection fields
In-situ mining operations
Offshore facilities
Other industrial applications
Learn more about our Blancett Model 1100 Turbine Flow Meter.