Dynasonics® TFX-5000 Ultrasonic Clamp-On Meter
Featured Product from Badger Meter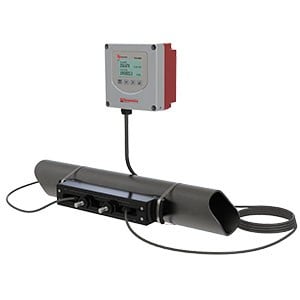 The Dynasonics® TFX-5000 ultrasonic clamp-on flow meter from Badger Meter measures volumetric flow and heating/cooling energy rates in clean liquids as well as those with small amounts of suspended solids or aeration, such as surface water or raw sewage. It is perfectly suited for water and wastewater and building design and construction applications.
By clamping onto the outside of pipes, the TFX-5000 meter does not contact the internal liquid and offers benefits such as:
Reduced installation time and cost
Continued operation during installation
No pressure head loss
No moving parts to maintain or replace
This meter is available in two versions:
A flow meter for water delivery, sewage, cooling water, water-glycol mixtures, alcohols and chemicals
A heating/cooling energy flow meter used in conjunction with dual clamp-on RTDs for temperature measurement, which is ideal for hydronic process and HVAC applications
Learn more about our Dynasonics TFX-5000 ultrasonic clamp-on flow meter or watch a video to find out how ultrasonic clamp-on technology works.