Biological safety when using instrumentation
Featured Product from Baker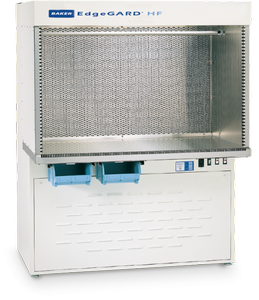 Fully Integrated Protection Designed Especially For Your Product
When your customers routinely use air containment and contamination control equipment in conjunction with your specialized instrumentation or software, or when a full integration would help you provide greater value to users, you can rely on Baker's Specialized Applications division to develop a solution that meets your exacting specifications.
Biological safety is often a concern when using instrumentation such as flow cytometers, ultra-centrifuges, microscopy and more. Simply placing this instrumentation inside a biological safety cabinet or clean bench may not provide the optimal protection that your customers need. When you work with Baker to develop an integrated solution for your customers, your biological safety enclosure is designed around your product, so you can be sure that your unique offering provides maximum personnel, product and environmental protection that not only meets regulatory criteria, but exceeds your expectations.
Our precision crafted modified and customized solutions for standard laboratory research or specialized applications can be found within a wide range of industries, research, or clinical applications.
Webinars
Baker is committed to providing industry-leading innovation and educational resources to its customers and the scientific community. View our webinars!
The Baker Company Overview
Watch this brief video for an overview of The Baker Company, including a virtual tour of our operations and technologies
ABOUT BAKER Since 1949, The Baker Company has been an industry pioneer in the field of biological safety with an unparalleled passion for helping its customers advance science, discovery and clinical care. The company was first established in response to a growing need to protect hospital workers from infectious diseases and the dangerous process of drug preparation. As solutions for air containment and contamination control have evolved over the years, Baker has been at the forefront of design and innovation, insisting on taking no shortcuts and applying no minimum standards to the solutions that they supply. Its Baker Ruskinn division is one of the world's leading suppliers of gas-controlled, anaerobic and modified atmosphere workstations for use in medical microbiology, cell biology, cancer research, molecular medicine and stem cell laboratories.