Luxury Accommodation for Cells
Featured Product from Baker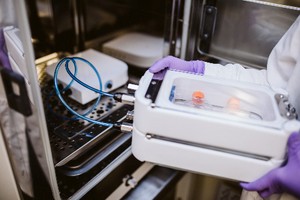 Culture As Nature Intended
CondoCell provides luxury accommodation for cells!
When used in conjunction with a hypoxic incubator and/or a physiological cell culture workstation CondoCell can provide true, continuous physiological control over the entire cell culture system.
CondoCell captures the environment of any incubator or workstation making continuous, uninterrupted culture accessible to all. When coupled with a workstation, CondoCell helps avoid any disruption in the delivery of temperature, humidity, and gas (oxygen) to the culture environment. CondoCell may also be paired with any incubator (Standard CO2 or Tri-Gas) to deliver stable, uninterrupted control of the intended growth environment AND reduces the likelihood for cross contamination within the incubator, from shelf to shelf and cell line to cell line. When used together, CondoCell facilitates continuous, uninterrupted control over the entire chain, never exposing your cells to oxidative stress from the outside.
CondoCell eliminates the harmful effects cells currently experience within most in vitro tools by delivering stable, uninterrupted control over the growth conditions they require (and deserve!) to thrive. With CondoCell you can be confident that your work will never be compromised by the limitation of your existing equipment, resulting in more, better and happier cells.
Follow us on:
Webinars
Baker is committed to providing industry-leading innovation and educational resources to its customers and the scientific community. View our webinars!
The Baker Company Overview
Watch this brief video for an overview of The Baker Company, including a virtual tour of our operations and technologies
ABOUT BAKER Since 1949, The Baker Company has been an industry pioneer in the field of biological safety with an unparalleled passion for helping its customers advance science, discovery and clinical care. The company was first established in response to a growing need to protect hospital workers from infectious diseases and the dangerous process of drug preparation. As solutions for air containment and contamination control have evolved over the years, Baker has been at the forefront of design and innovation, insisting on taking no shortcuts and applying no minimum standards to the solutions that they supply. Its Baker Ruskinn division is one of the world's leading suppliers of gas-controlled, anaerobic and modified atmosphere workstations for use in medical microbiology, cell biology, cancer research, molecular medicine and stem cell laboratories.