Powerful physiological cell culture workstation
Featured Product from Baker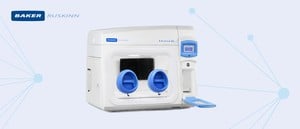 InvivO2 Physiological Cell Culture Workstation. A powerful physiological cell culture workstation, InvivO2 features three models carefully designed to meet your specific needs with advanced ergonomic design providing excellent hand access and rapid single plate loading to deliver precise control of your culture environment.
Baker Ruskinn's InvivO2 line of Physiological Oxygen Cell Culture Workstations are designed and built to mimic the in vivo physiology of your cell or tissue culture, providing the reassurance of precise results under controlled conditions. The InvivO2 workstation is packed with new, innovative features that allow study even the most complex cell interactions under perfect physiological oxygen conditions. Whether replicating the environment of blood vessels or lung tissue, the InvivO2 is the best tool for the job. Easy to use and adaptable to meet users' needs, especially for cell culture applications that require carefully controlled oxygen regulation, InvivO2 offers accurate and stable user-defined environmental controls, and direct access to the inner chamber. Among its many innovative and new standard features, InvivO2 now provides the following:
InvivO2 delivers precise control of the culture environment; all environmental parameters are set using the simple icon driven touchscreen.
Removable Pop-Off™ front cover allows easy set-up and cleaning.
Ezeeyin Glove ports fitted with Ezee Sleeves™ allow direct hands-in access to the chamber, without compromising the integrity of the internal environment.
Internal HEPA filtration delivers unrivaled air cleanliness ratings within the chamber for optimal growth conditions.
In addition to the InvivO2, Baker & Baker Ruskinn feature the following complementary equipment solutions:
The SCI-tive range of advanced Physiological Oxygen Workstations has all the user defined environmental controls of InvivO2 but offers a larger user workspace thus accommodating larger analytical instrumentation (e.g. Seahorse, Inverted Microscopes, Luminomenters, etc.)
The SterilGARD® e3 Biological Safety Cabinet from Baker provides proven air containment and contamination controlled technology that saves energy, increases productivity and improves worker safety.
Baker's EdgeGARD HF horizontal laminar-flow clean bench provides HEPA-filtered air and proven product protection ideal for a range of laboratory applications. With a patented cabinet design incorporating high-velocity return air slots, EdgeGARD HF provides precise directional control of airflow volumes and velocities, thereby maximizing product protection and ensuring Class 100 air cleanliness for the laboratory.
The Baker Company Overview
Watch this brief video for an overview of The Baker Company, including a virtual tour of our operations and technologies
ABOUT BAKER Since 1949, The Baker Company has been an industry pioneer in the field of biological safety with an unparalleled passion for helping its customers advance science, discovery and clinical care. The company was first established in response to a growing need to protect hospital workers from infectious diseases and the dangerous process of drug preparation. As solutions for air containment and contamination control have evolved over the years, Baker has been at the forefront of design and innovation, insisting on taking no shortcuts and applying no minimum standards to the solutions that they supply. Its Baker Ruskinn division is one of the world's leading suppliers of gas-controlled, anaerobic and modified atmosphere workstations for use in medical microbiology, cell biology, cancer research, molecular medicine and stem cell laboratories.