Fixed Axle Tanks
Product Announcement from BakerCorp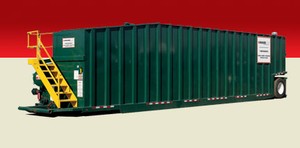 Ideal Usage
Process plant, industrial, construction, commercial and oil field applications, pipeline projects, sewage plant outages, drilling chemical storage.
Benefit

The BakerCorp Fixed Axle tank has both "V" bottom and round bottom floor designs for easy cleanout. Tanks can be manifolded together for large projects.
Weights and Measures
Capacity
450 BBL (18,900 gal) to 500 BBL (21,000 gal)
Height
8' 6" – 11' 3" depending on model (grade to roof deck) Note: protrusions above roof deck include nozzles, manways, P/V valve and handrails
Width
8' 0" or 8' 6"
Length
40' 0" – 50' 0" depending on model
Weight
Oil Field Frac Tank: 18,000 lbs (est); Fixed Axle: 24,500 lbs – 34,000 lbs
Features
Valves
4" butterfly valves, typically (2) on the front and (1) on the rear. Number and size can vary depending on tank model.
Relief Valve
Pressure: 16 oz/in
2; Vacuum: 0.4 oz/in2; Not on all models.
Manifold
Some models available with integral manifold headers. All others are manifold-capable.
Interior Lining
Chemical resistant coating
Clean out
All tanks have either a v-bottom or round bottom.
Access
Typically fitted with 22" manways on top, front and side of tank. Number varies.
Material of Construction
1/4" ASTM A36 carbon steel
Quality/Safety Features
QMS inspections on a scheduled basis. Staircase to top. Pressure/vacuum valve.
To download the PDF, please click here.
---