Self-Priming Pumps
Product Announcement from BakerCorp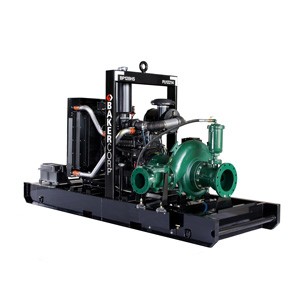 Self-Priming Pumps from BakerCorp are ideally used for refineries, chemical facilities, waste water treatment plants, and construction site dewatering.
Benefit
Low maintenance. Easy access with large cleanout port. Emergency shutdown features.
Performance
Suction Size: 3" – 6"
Discharge Size: 3" – 6"
Max Flow Range: 450 gpm – 1,700 gpm
Suction Lift: Up to 28'
Max Shut Off Head Range: 112' – 171'
Max Solids Size: Up to 3"
Max Operating Temp: Up to 160º F
Fuel: No. 2 Diesel
Fuel Capacity: 50 gallons – 88 gallons
Standard Mount: trailer or skid
Safety Features: Coupling guards; high water temperature and low oil pressure shutdowns on diesel engines.
---