BakerCorp Steel Tanks
Product Announcement from BakerCorp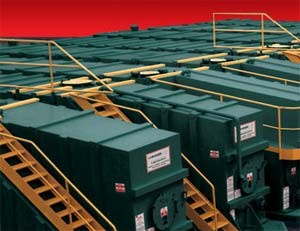 Steel tanks from BakerCorp provide flexible liquid containment capacity for large and small projects. With the largest and most diverse selection of rental steel tanks available in the industry, Baker's application experts know how to match the right steel tank rental for your specific job requirements. What makes steel tanks from Baker an even better choice is their ability to modify them for your special needs. Replacing nozzles, reconfiguring valves or adding weirs are all examples of the unique value Baker can bring to your projects.
Baker can store up to a million gallons of liquid in portable rental tanks, on the smallest footprint possible. Refineries, chemical plants, municipalities and construction sites have all put BakerCorp steel tanks to use for temporary liquid containment.
The Baker Advantage
Unmatched Selection - From frac tanks to mix tanks, Baker inventories 17 varieties of steel tanks alone. They know how to choose the best tank for your project.
Efficient Project Site - Baker steel tanks require the industry's smallest footprint. Their highly-trained drivers know how to position them for maximum usability.
Attention to Detail - Guardrails, staircases and pressure/vacuum valves are all common on Baker steel tanks.
Increased Productivity - If a steel tank is all your project requires, they'll match the best one. If you need a pump, filter or shoring system additionally, BakerCorp is your best choice for a turnkey solution.
---