Dodge® Disc Coupling
Product Announcement from ABB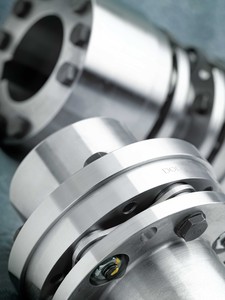 Dodge Disc couplings offer improved reliability by utilizing the newest generation of disc geometry, which minimizes disc stress during operation and results in industry leading misalignment capabilities and torque ratings. Higher misalignment and torque directly translates into Dodge Disc couplings having the longest life in the industry.
The Dodge Disc coupling design can increase productivity by reducing maintenance requirements.
Some oil and gas pumping applications still use metallic couplings that require periodic lubrication. However, since Dodge Disc couplings do not have relative movement between mating surfaces, there is no need for grease during operation. This new coupling allows users to lower costs by offering a large hub option that increases the max bore capability in applications where the coupling size is driven by the shaft diameter instead of the torque requirement.
The new Dodge Disc coupling is an industry leading product that improves reliability, increases productivity and reduces total cost.
---