Expanded Motorized Torque-Arm II Family
Featured Product from ABB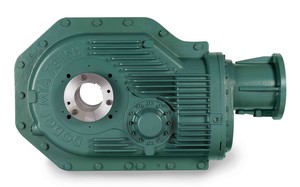 Now In Stock
The New, Expanded Motorized Torque-Arm II Family
Baldor Electric Company introduces an expanded line of heavy- duty right-angle beltless Motorized Torque-Arm (MTA) reducers in a full range of 7 sizes from 3 to 100 HP and torque ratings up to 130,000 inch/lbs.
The bulk material handling industries recognize the importance of uptime by specifying products that extend life, increase productivity, lower costs and prevent unexpected downtime. As a result, customers choose the Dodge Torque-Arm shaft mounted family of speed reducers more than any other belt driven reducer on the market.
Now, the Baldor-Dodge Motorized Torque-Arm II offers a beltless, AGMA rated solution for areas where standard belt driven reducers will not fit. Combining high power capacities, a narrow profile, and utilizing all of the standard Torque-Arm II accessories, this line of C-face reducers offer harsh duty features as standard. These reducers are designed to operate in harsh environments, handle high shock loads, and are a good choice for areas where maintenance is difficult to perform. The MTA delivers the highest power ratings, longest life, and provide ease of installation and removal with the exclusive Dodge Twin Tapered Bushing mounting system.
Additionally, the c-face design shortens required maintenance times, reduces the amount of required guarding, and provides a safe, power dense, reliable package for customers who know that time running = more profits.
Available as a c-face reducer or c-face gearmotor assembly, the Motorized Torque-Arm II provides your customers with industry leading performance and reliability. When you think "HEAVY DUTY", think Baldor-Dodge Motorized Torque-Arm II.