Premium-efficiency motors: Baldor's Super-E range
Featured Product from ABB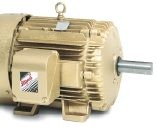 The Super-E® electric motor gives you outstanding efficiencies that are better than many industry and country standards. Super-E motors meet or exceed the efficiency levels defined by NEMA Premium®, EPAct in the USA, NRC in Canada, CEMEP EFF1 in Europe and the new IEC IE3 class. Energy efficiency improvements can deliver a very large return on investment, as initial purchase costs are typically only around 2% of the lifecycle cost of an electric motor.
This particular motor range has some 30 years of design and manufacturing expertise behind it, as it was first produced in the 1980s to reduce the energy costs of a tire manufacturer. Baldor engineers determined that considerable energy savings could be gained from a motor design focused on "active materials." By adding more copper to the windings, upgrading the laminations to premium-grade steel, designing precision air gaps between the rotor and stator, and reducing fan and other losses in the motor, Baldor was able to set a new standard for energy efficiency.
Today's line of Baldor Super-E motors offers customers some ofthe highest levels of efficiency available worldwide, in ratings from 1/2 to 15,000 horsepower (0.37 to 20,000 kW), and in NEMA or metric frames. Baldor has over 600 ratings available immediately from stock, with non-stock motors manufactured in typically 10 working days. All Super-E motors (except Explosion-Proof) are also "Inverter-Ready".
The optimum motor
Whether it's a premium efficient motor for harsh, outdoor conditions at a petro-chemical plant, or for continuous duty in a distribution center, Baldor offers a variety of choices. Super-E Totally Enclosed Fan Cooled (TEFC) and Open Drip Proof (ODP) are reliable motors that have kept plants operating efficiently since their introduction in 1983. Explosion-Proof, Close Coupled Pump and Automotive Approved Super-E motors deliver premium efficiency for special duty applications.
In applications requiring added protection from corrosion caused by severe environmental operating conditions, Baldor Super-E Severe Duty motors are available in TEFC ratings from 1 through 15,000 HP (0.75 to 20,000 kW). Cast-iron construction, epoxy primer and finish paint inside and out, gaskets on all joints and many other features provide added protection where and when you need it most.
For the ultimate in protection from severe environments - where you need added insurance against downtime - Baldor offers IEEE 841 motors. Delivering reliable, rugged performance with the industry's highest energy efficiencies, these motors exceed IEEE 841 - 2001 standards for severe duty TEFC induction motors.
Inpro/Seal® bearing isolators at both the drive end and fan end. Baldor IEEE 841 motors are available immediately off the shelf, in 1 - 250 HP (0.75 to 186 kW) ratings, with special designs available in just 4-6 weeks.
Leadership in Premium Efficiency
Called a "key breakthrough" by the USA's Consortium for Energy Efficiency, the CEE in 1998 recognized Baldor's Super-E as the first premium efficient motor line to meet their stringent efficiency criteria, citing "For the first time, one manufacturer will carry all qualifying products."
As countries and regions across the world establish minimum efficiency levels for motors, more companies are turning to the Baldor Super-E. This includes plant and processing applications, as well as OEM products.