A clever alternative not only for beds!
Featured Product from Bansbach Easylift®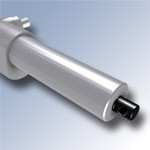 Hydraulic-pump
...a clever alternative not only for beds!
With the new Bansbach hydraulic pump, the height of a great variety of applications can be adjusted by simply pumping. The pump can be completely operated without external energy supply. The movement is effected by simply pumping. Due to the weight of the application, the reset is always controlled and can be effected by opening the valve with a movement at the lever.
We offer here also a very flexible product range which will be adapted to the characteristics of your application and therefore optimally fulfills your requirements.
Product characteristics:
Maintenance-free
Completely independent of external energy supply
Extension forces up to 10kN
Strokes from 80 - 400 mm possible
Operating temperature: +10°C - +40°C
Lowering speed customised
Overload protection
Configurator
We Manufacture Your Gas Spring!
The Bansbach gas spring configurator offers you the advantage of designing your gas spring from a wide range of in stock components.
Catalog Download!
You can find detailed product information in our Catalog.
Watch>>>Image Movie Bansbach easylift Bansbach easylift® - The World Of Motion
Bansbach easylift® has been developing and producing all types of gas springs for more than 45 years, As a result, our portfolio has been expanded to include:
We pride ourselves on having the highest quality motion control products in the industry. As a result, our products fulfill even the highest requirements of many industries including, but not limited to:
Aerospace
Agricultural
Medical
Furniture
Military & Defense
Marine
Industrial