Bansbach Rotary Dampers and Dashpots
Featured Product from Bansbach Easylift®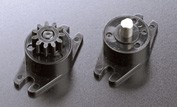 ROTARY DAMPERS
Bansbach rotary dampers and dashpots are used to dampen drives, control speed, and many other applications. Our rotational viscous dampers are maintenance free and are the most durable units on the market. Bansbach silicone oil viscous dampers are available in either fixed rate or adjustable models.
Catalog Download!
You can find detailed product information in our Catalog.
Watch>>>Image Movie Bansbach easylift Bansbach easylift® - The World Of Motion
Bansbach easylift® has been developing and producing all types of gas springs for more than 45 years, As a result, our portfolio has been expanded to include:
We pride ourselves on having the highest quality motion control products in the industry. As a result, our products fulfill even the highest requirements of many industries including, but not limited to:
Aerospace
Agricultural
Medical
Furniture
Military & Defense
Marine
Industrial
Configurator
We Manufacture Your Gas Spring!
The Bansbach gas spring configurator offers you the advantage of designing your gas spring from a wide range of in stock components.