Click & Go Gas Spring Locks with Push of a Button
Featured Product from Bansbach Easylift®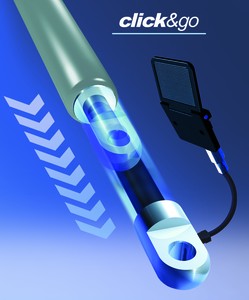 Click & Go Gas Spring locks with only one push of a button! Our new click system makes it possible to lock your gas spring in its inserted final position! This adjustment can be achieved without any release systems by slightly pushing the piston rod in, allowing the stroke to extend completely, similar action to a ball point pen.
Product characteristics:
Extension Force: up to 1300 N
Stroke: up to 700 mm
CeramPro® piston rod and powder coated cylinder provides high corrosion-resistance
Catalog Download!
You can find detailed product information in our Catalog.
Watch>>>Bansbach easylift
Bansbach easylift® has been developing and producing all types of gas springs for more than 50 years, As a result, our portfolio has been expanded to include:
We pride ourselves on having the highest quality motion control products in the industry. As a result, our products fulfill even the highest requirements of many industries including, but not limited to:
Aerospace
Medical
Furniture
Military & Defense
Marine
Agricultural