Microhydraulics – The Small Power Packs!
Featured Product from Bansbach Easylift®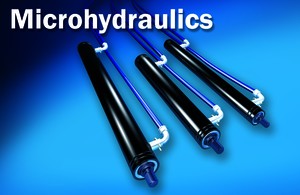 Product Characteristics:
Piston diameter: 13, 16, 19 and 24mm
Stroke: 30 - 250mm
Function: double acting
Operating pressure: max. 200 bar (max. 10 sec, 15% duty ratio)
Extension force: up to 9,000N
Fluid: Mineral oil HL - HLP acc. DIN51524, further on request
Fluid temperature: -20°C to 80°C
Connectors: Connectors for standard high pressure tubes with plug-in coupling DN2 (ØK = 13 - 24)
Catalog Download!
You can find detailed product information in our Catalog.
Watch>>>Bansbach easylift
Bansbach easylift® has been developing and producing all types of gas springs for more than 50 years, As a result, our portfolio has been expanded to include:
We pride ourselves on having the highest quality motion control products in the industry. As a result, our products fulfill even the highest requirements of many industries including, but not limited to:
Aerospace
Medical
Furniture
Military & Defense
Marine
Agricultural