easyE® - Electric Linear Actuator
Featured Product from Bansbach Easylift®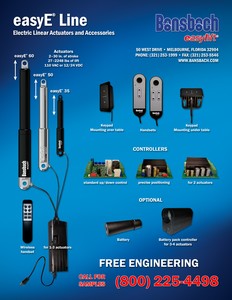 Our new easyE®- electric linear actuators utilizes an in-line actuator with a very slim design. Due to the linear layout of motor, gear and spindle, a very slim design for installation is achieved. With an outer diameter of 35, 50 and 60 mm, the actuators fit into nearly every application while providing lifting forces from 120N up to 10.000N (easyE-60).
The corresponding controllers define what the actuators have to do. No matter if plug-and-play or bonding of your SPS, the synchronic adjustment of serveral cylinders or the mobile battery power – you can find all of them in our easyE-line program.
Features:
Stroke length: 50, 100, 150, 200, 250, 300, 350, 400, 500 and 750mm (others on request)
Materials:
Motor and actuator tube are powder coated steel or stainless steel
Piston rod is aluminum (easyE-35) or stainless steel (easyE-50 and easyE-60)
Front and rear brackets are PA, aluminum or stainless steel
Protection class: IP66 (standard), IP68, IP69K, ATEX
Temperature:
Standard (-5°C - +70°C)
Low (-40°C - +70°C)
High (-5°C - +90°C)
Maximum force: 120 - 2200N
Speed: 3 - 33mm/s
Stroke: 50 - 750mm
Voltage: 12VDC or 24VDC
Maximum force: 500 - 4500N
Speed: 4 - 70mm/s
Stroke: 50 - 750mm
Voltage: 12VDC or 24VDC
Maximum force: 1900 - 10.000N
Speed: 5 - 31mm/s
Stroke: 50 - 750mm
Voltage: 24VDC
Catalog Download!
You can find detailed product information in our Catalog.
Watch>>>Image Movie Bansbach easylift Bansbach easylift® - The World Of Motion
Bansbach Easylift® has been developing and producing all types of gas springs for more than 45 years, As a result, our portfolio has been expanded to include:
We pride ourselves on having the highest quality motion control products in the industry. As a result, our products fulfill even the highest requirements of many industries including, but not limited to:
Aerospace
Agricultural
Medical
Furniture
Military & Defense
Marine
Industrial