1000 Feet Underwater Data Entry System
Product Announcement from BaranTec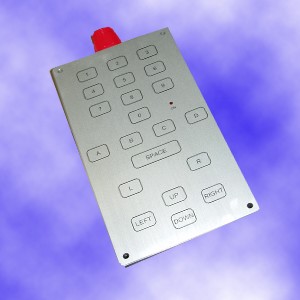 Barantec Inc. has successfully completed a naval project of a control panel and data entry system that is routinely used to depths of 1000 feet underwater. The project included a keypad, RS232 interface, cable and software designed to integrate with the equipment used.
The problem:
The Navy required a keypad and data entry system for divers at extreme depths of 1000 feet. Divers are required to continuously communicate data to the surface and a keypad was needed that could withstand the harsh environment of the ocean and meet very stringent design criteria, such as:
The underwater equipment required a control panel and data entry system to withstand the harsh environment of the ocean and will provide features such as:
100% sealed - exceeds IP68 requirements
Operation in low temperatures
Water and salt water resistance
Clear graphics and legend
Hand held unit
Guaranty for a minimum of 2 years operation
Ergo-metric design, user friendly in harsh environment
The solution:
The EVERSWITCH line of control panels and data entry systems are designed to withstand harsh environments, are IP68 sealed, with an operational and storage temperature range of -40C to +125C.
All EVERSWITCH products are manufactured to the highest standards, hence all other requirements were met. The underwater keypad was designed to accommodate the software and interface which were sealed to exceed the IP68 requirement.
The keypad legend is, permanently printed using an anodization process, which is easily visible in an underwater environment with large keys making the unit user friendly.
The EVERSWITCH product line is guaranteed for 5 years, and is successfully certified and used in naval applications as well as aerospace and other industrial applications.
---