Retrofit Industrial control panel
Service Detail from BaranTec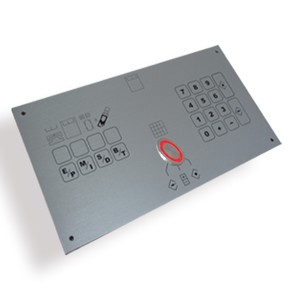 If you operate an obsolete and discontinued equipment which is still working in high-use factory conditions and the only point of failure is the pushbutton control panel we have the solution for you. Barantec designs and modernize, any control panel for custom replacement, featuring a solid Aluminum housing with our patented Piezoelectric switch elements.
We built-in the existing control PCB into an indestructible interface. Each switch element is rated at 50 Million cycles, the electronics , controllers and processors are completely potted, the graphics are anodized onto the Aluminum surface, resulting in a IP 68, dust proof, long life control panel with there are no moving parts and 5 years guaranty.
Barantec produces the EverSwitch line of patented Piezoelectric switches, keypads and custom interfaces that operate in conditions that traditional input devices are not able to match … outdoor Siberian telephone kiosks, explosion proof applications, aseptic clean rooms, correctional facilities, undersea diving equipment and vehicular systems and unattended or vandal prone locations. Our engineering staff is able to develop customized solutions with nominal NRE costs, fast turn times, and comparatively small production runs.
---