Standard 4x4 Piezo keypad
Product Announcement from BaranTec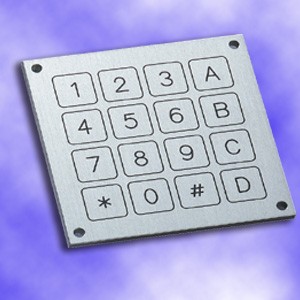 The EVERSWITCH standard 4x4 keypad is extremely rugged with long lifetime , seal tight structure, protecting against dust, fog and fluids. At a standard operating temperatures of -40c (-40F) to 125c ( 256F) the EVERSWITH 3x4 keypad is the most durable among conventional keypads and leads the touch metal keypad industry.
Mounting
The EVERSWITCH keypad is supplied with through holes or studs .
Structure
The EVERSWITCH Keypad, is made of one piece construction (Mono block) made of aviation grade aluminum, high quality Stainless steel or plastic material. The Keypad will not rust nor break at any environmental condition. The switches has no moving parts, and have no wear nor mechanical fatigue, resulting in a rated lifetime of greater than 50 million switching cycles - practically forever.
Electrical specs
The EVERSWITCH Keypads are offered in a wide verity of functions, N.O, N.C, up to 24V ..2A to 10A, with matrix, common bus, RS232 and USB output.
Illumination
As an option the EVERSWITCH keypads can be produced with two types of illumination: , ring illuminated and dot illuminated. We use RGB LEDs which allow the user to choose the LED color.LED voltage ranges between 5,12,and 24V high luminosity LED are available as well.
Environment
The EVERSWITCH keypads are 100% sealed to meet IP69K rating are fully protected against dust, fog, salt fog, humidity, moisture and fluids, are submersible up to a 1000 feet underwater and withstand wash-down of up to 100 BARs pressure.
---