PCB Manufacturing Capabilities
Service Detail from Bare Board Group, Inc.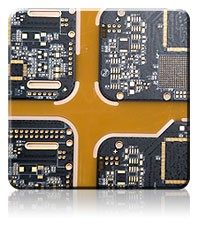 At Bare Board Group, the need of each individual customer is important to us. We strive to provide our clientele with an expanded catalog of manufacturing capabilities in order to fit the wide variety of quality printed circuit boards (PCBs) they require. Below you will find a listing of Bare Board Group's standard manufacturing capabilities. If you require something that is not listed, please contact BBG to give us the opportunity to accommodate YOUR individual need.
Materials
FR-4 170TG
Rogers CEM
Aluminum Clad
Panel
Largest PCB Size 20 x 30 inches
Max Layer Count 16
Min PCB Thickness 0.010
Max PCB Thickness 0.240
Board Thickness Tolerance +/- 10%
Routing Tolerance +/- 0.005"
Drill
Min PTH Mechanical 0.008 (0.23 mm)
Min PTH Laser 0.002
PTH Tolerance +/- 0.003" (0.076 mm)
PCB Aspect Ratio (THK: DHS)
6:1
Copper
Max Inner Thickness 3 oz
Max Outer Thickness 6 oz
Min Thickness 0.5 oz
Trace / Space
Min Trace/Space 0.004"/ 0.004" (0.1/0.1 mm)
Surface Finishes
Lead Solder (HASL) Lead-Free Solder (HASL)
Hard Gold Immersion Gold (ENIG)
Immersion Silver OSP
Options
Gold Tabs Selective Au
Peelable Mask Carbon Ink
Controlled Impedance Via-In-Pad
Score Punch & Return
Laser Drill Blind Vias
Buried Vias
---