GBCO Barry-Flex Isolators
Product Announcement from Barry Controls Industrial and Defense Division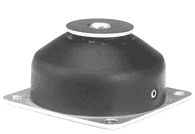 Low-profile, high-deflection elastomeric shock & vibration isolators protect sensitive military equipment in harsh environments. Barry-Flex isolators are designed for harsh environments where high-amplitude shock and vibration are encountered. Their rugged design and high deflection capabilities are ideal for this type of environment.
A P P L I C A T I O N S
Electronic packages, computers & communications equipment installed within military vehicles
F E A T U R E S
Aluminum alloy construction
Meets requirements of MIL-STD-810and DEF.STAN.07-55
Low-profile design
Unique cooling feature
L O A D R A N G E
GBCO1 Series available in 3 load ratings from 8.8 to 17.6 lbs.
Series available in 4 load ratings from 17.6 to 40 lbs.
Contact Barry Controls with your custom specifications.
---