Total Battery Management Software
Product Announcement from Battery Test Equipment Co.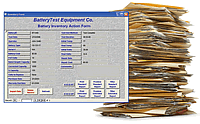 Complete maintenance record keeping with less time and money.
Maintaining records to monitor battery, age, performance, repairs, and warranty expiration date has never been easier! Batteries cannot be properly maintained without routine record keeping.
The record keeping capability of our signature Total Battery Management software simplifies record maintenance, providing top-level management overviews, with specific data for each battery and cell.
Total Battery Management software is standard with each MCBA Battery Analyzer.
MCBA Battery Analyzer Test Results
When a battery is first received its Identification Number together with its vital statistics are entered into the MCBA. The initial test results and all subsequent test results are automatically recorded and saved, creating a complete history of each battery's performance during its lifetime.
---