Heavy Hex Bolts & Structural Bolts
Featured Product from Bayou City Bolt & Supply Co., Inc.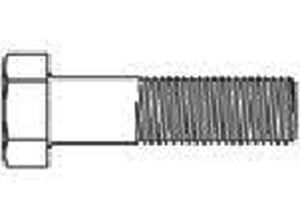 Heavy Hex Bolts - General
Heavy hex bolts have a head that is larger than a standard (finish) hex head. Standard heavy hex bolts are made of low to mid carbon steel. The large head offers a greater bearing surface that distributes the clamping load over a greater area.
The ASTM A307 specification covers carbon steel bolts and studs ranging from 1/4" through 4" diameter. This is your everyday, run of the mill bolt specification often manufactured using A36 round bar. There are three grades A, B, and C which denote tensile strength, configuration, and application.
The ASTM A193 standard covers alloy steel and stainless steel bolting materials for high temperature or high pressure service. This specification includes fasteners intended for use in pressure vessels, valves, flanges, and fittings. Although, this material is often available in UNC national coarse thread, diameters above one inch are typically specified 8 threads per inch (tpi).
Heavy Hex Bolts - Structural
Heavy hex structural bolts are designed for steel-to-steel structural connections. The ASTM A325 and A490 specifications cover high strength heavy hex structural bolts from 1/2" diameter through 1-1/2" diameter. These bolts are intended for use in structural connections and therefore have shorter thread lengths than standard hex bolts. The A325 and A490 specifications are not intended for general applications.
The ASTM A490 specification covers quenched and tempered, alloy steel, heavy hex structural bolts from 1/2" diameter through 1-1/2" diameter with a minimum 150 ksi tensile. A490 bolts are similar in application and dimensions to A325 Hex Cap Screws heavy hex structural bolts but are made from an alloy steel rather than a medium carbon steel, resulting in a higher strength fastener.
Governing Standards
ASTM A307 - Standard Specification for Carbon Steel Bolts, Studs, and Threaded Rod 60 000 PSI Tensile Strength
ASTM A193 - Standard Specification for Alloy-Steel and Stainless Steel Bolting for High Temperature or High Pressure Service and Other Special Purpose Applications
ASTM A325 - Standard Specification for Structural Bolts, Steel, Heat Treated, 120/105 ksi Minimum Tensile Strength
ASTM A490 - Standard Specification for Structural Bolts, Alloy Steel, Heat Treated, 150 ksi Minimum Tensile Strength
DIN 6914 10 - Heavy Hexagon Structural Bolts