Hot-Dip Galvanizing of Fasteners
Featured Product from Bayou City Bolt & Supply Co., Inc.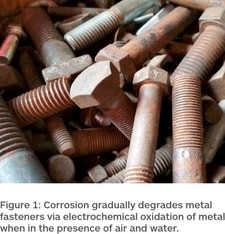 Corrosion, a natural phenomenon that causes the degradation of metals, results in hundreds of billions of dollars in maintenance and repair costs every year. Corrosion can affect any metal including steel, an alloy of iron and other elements (e.g., primarily carbon) that is widely used to form structural and fastening components in buildings, bridges, vehicles and many other applications. Protecting against corrosion is essential in mitigating its safety risks and repair costs.
One of the most effective means of mitigating steel corrosion is hot-dip galvanizing, especially for fasteners. What follows is an overview of the hot-dip galvanizing production process, benefits of the method, related industry standards and other considerations.