The Ultimate Calibration Workshop solution
Product Announcement from Beamex, Inc.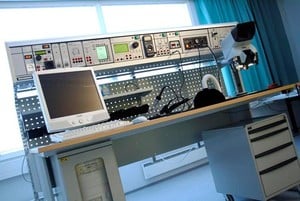 The calibration workshop solution
All-in-one panel-mounted calibrator
The MC5P is a versatile calibrator with many different functions. It can be used for calibrating pressure, temperature, electrical and frequency signals.
Accuracy guaranteed
The MC5P is delivered with a traceable, accredited calibration certificate.
Communication with calibration software
Using the MC5P together with calibration software provides you with a complete documenting calibration system that produces calibration certificates automatically.
Calibrate fieldbus transmitters
Although modern fieldbus transmitters have been improved compared to older transmitter models, it does not eliminate the need for calibration. The MC5P is a combination of a multifunction calibrator and a fieldbus configurator and it can be used for calibrating Foundation Fieldbus H1 or Profibus PA transmitters.
Main features (and specifications)
Calibration and trimming of HART® instruments
Support for Foundation Fieldbus H1 and Profibus PA
Multichannel data logging
Automatic pressure and temperature calibration through communication with dry blocks and pressure controllers
Module can be retrofitted to existing MCS100 Workstation
Multilingual user-interface
---