Actuator Crank Linkage Kits
Product Announcement from Beck, Harold Beck & Sons, Inc.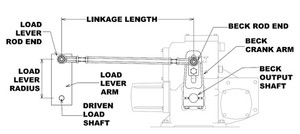 Beck Linkage kits are available for the mechanical connection from the actuator crank arm to the load lever arm. Beck's linkage kits help improve your control by eliminating slop in your linkage connection.
When a linkage connection is properly sized, designed, and implemented it will help ensure that you have a successful, long-lasting installation. Beck Engineers are available to assist you with designing your linkage and specifying the appropriate linkage kit through our free Link-Assist service. Beck offers two different styles of linkages called pipe linkage kits and hex linkage kits. Selection charts, diagrams, and downloadable drawings on both linkage kit styles are available use links below.
---