Actuators... for Control Valves & Dampers
Product Announcement from Beck, Harold Beck & Sons, Inc.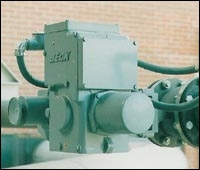 Beck Drives are designed with many unique features making them easy to install, easy to operate, reliable, maintenance-free, durable and unbeatable control performance that will remain consistent over time and with changing conditions.
Beck's Unique Design Incorporates Simplicity, Flexibility, Reliability, and Performance
Beck control drives are equipped with field-proven electronics that provide excellent position control in response to modulating control signals. This maximizes control loop performance by ensuring that the damper or valve responds exactly as the control loop requires.
The Beck Digital Control Module (DCM) resides within the drive and provides unparalleled position control. The DCM allows simple calibration, configuration and setup changes, and diagnostics utilizing three communication interfaces:
The DCM HART® interface is compatible with asset management systems and provides remote access of all drive features and information; such as calibration, configuration, detailed process and drive diagnostics, even an optional live torque measurement. These features can also be accessed using traditional Handheld Communicators or other HART® capable devices.
The DCM local configuration panel allows for quick pushbutton setup and diagnostics without the need for a handheld or remote device.
The DCM serial interface allows for drive configuration changes, drive information reporting, and assistance in troubleshooting.
Beck drives can alternatively be equipped with analog control and can be matched to virtually any process control signal. Multi-position and open/close control are also available. Beck's Contactless Position Sensor (CPS) also resides within the drive, and provides reliable internal position feedback to the DCM for position control. The DCM also uses the sensor signal to source a 4-20 mA external position signal for remote monitoring of drive position. Unlike typical position sensors used with other actuators, the CPS does not wear due to its contactless design. Beck continues to offer electronics that accept a wide range of control signals and provide several feedback options. Drive Train: Precision and Durability Beck's durable gear train maintains accurate, consistent positioning even under the demanding conditions of an active control loop. Gear train features include:
Efficient, all spur gear construction using only heat-treated alloy steels and ductile iron.
Wide face gears that virtually eliminate wear induced backlash and positioning inaccuracies.
Integral Self-Locking Mechanism (SLM) holds up to 200% of the rated load with the motor de-energized.
Virtually no lubrication maintenance required and no mounting orientation restrictions on most models. The Beck Motor: 100% Availability The Beck motor design makes the precise, reliable performance of the drives possible. This no burnout motor ensures that the drive is available 100% of the time. There are no duty cycle limitations typical of most electric actuators, so the drive performs as the loop requires rather than the loop performing as the actuator requires. The Beck motor:
Reaches full speed and torque in milliseconds-eliminating dead time.
Stops instantaneously-eliminating coast and overshoot.
Provides extremely accurate, repeatable positioning with no required maintenance.
Draws very low current (0.16 to 3.0 A in most applications) permitting easy integration with UPS systems. And...
Never overheats or burns-out; even under demanding modulating or stalled conditions. Tested in an active modulating loop, conventional motors used in other electric actuators rose rapidly in temperature, tripping thermal overload devices and becoming unavailable for extended time intervals. Only the Beck motor remained stable for continuous operation. Local Manual Control All Beck drives are built with local positioning capabilities. An electric Handswitch allows electrical local operation of the drive, while a convenient Handwheel, or Handcrank on some high torque drives, allows manual positioning of the drive output shaft without electric power. The electric Handswitch allows the drive to be positioned locally and is very useful for the initial setup of the drive and linkage. It also serves as a diagnostic tool or a backup control device in the event the loop controller or demand signal malfunctions. Even in the absence of power, and with full load applied, the drive output shaft can be manually positioned using the easy-to-turn, spoke-free Handwheel. No clutch mechanism is required and mechanical stops protect against manual overtravel
---