Linear Valve Actuators...for Steam Flow Control
Product Announcement from Beck, Harold Beck & Sons, Inc.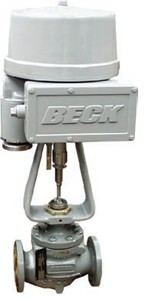 The Beck Group 14 linear valve actuators combine the benefits of precise, responsive modulation and tight shutoff for exceptional performance in globe valve applications.
Group 14 drives are ideal for steam flow control, combustion control, and any other application which requires more precise valve position control or faster response than pneumatic or electric actuators can deliver.
These units feature a modular configuration to simplify installation and service. All components are housed in individual compartments with heavy cast, precisionmachined covers to keep out dust and moisture. As with most Beck drives, the Group 14 can be mounted in any orientation.
Valves and drives may be ordered together as factory-mounted assemblies, ready for drop-in installation. Or drives can be supplied separately along with the necessary hardware for field installation on existing valves.
---