Rotary Electric Actuators... Quarter-Turn
Product Announcement from Beck, Harold Beck & Sons, Inc.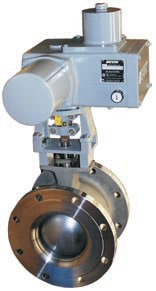 Harold Beck & Sons - Group 11 and Group 31 quarter-turn rotary electric actuators may be supplied with direct shaft mounting hardware and rigid coupling for 90 degree applications.
Precise, reliable, and consistent positioning of control valves is of critical importance in maintaining overall process control. Beck's unique ability to quickly, accurately, and consistently track the control signal allows you to fully utilize your control system's capabilities. This can significantly decrease process variability, improve product quality, and reduce operating costs.
Valves and drives may be ordered together as pre-engineered assemblies ready for drop-in installation. Or drives can be supplied separately along with the necessary hardware for field installation on existing valves.
---