Bedrock Upgrades IEC 61131 - 3 IDE
Featured Product from Bedrock Automation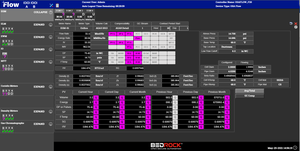 Bedrock Automation, maker of Bedrock OSA®, the world's most powerful and secure automation platform, has announced multiple features, performance upgrades, ease of use, and user security tools in the latest version of its free IEC 61131-3 compliant integrated development environment (IDE.)
"We see Bedrock IDE version 1.12 as our continued evolution in high-performance, open and secure automation. Users will be able to visualize embedded system and process data; secure access to this data via more browsers, including those running on Android; enhance user security for maintenance and diagnostics; and work effectively with larger data and simulation files. These significant user benefits are available to all existing and new users with a simple download—a true manifestation of software-defined hardware," said Bedrock Founder, CEO and CTO Albert Rooyakkers.
Visualization
Bedrock now offers new visualization functionality that comes from the addition of Bedrock OSA View™, a new option that enables developers to build and integrate process displays seamlessly with application and diagnostic variables, taking advantage of the secure web server that can reside within every Bedrock controller. They can also build secure local HMI and dashboard displays in the same application as the control code, without leaving the standard Bedrock IDE, simply by installing Bedrock Client Authentication certificates on select browsers.
"The ability to add Client Authentication certificates to a browser broadens the range of open secure automation. Tablets are becoming the standard mobile means of accessing operating and maintainenance data from automation systems and process equipment, and there is more interest particularly on Android operating systems. With our new certification capability, a developer can build a secure communications channel connecting devices, OPC UA servers and an Android tablet," said Rooyakkers.
Field Technician Interface (FTI)
The Bedrock engineering environment now includes a new standalone field technician interface (FTI), which enables users to configure and upgrade Bedrock OSA hardware without requiring the full Bedrock IDE install, enhances application and controller file management, and improves firmware visualizations. This is a major upgrade in both ease of use and functionality for Bedrock's Device Management tool.
Enhanced Performance
As applications integrate more data from more devices, files continues to grow. IDE 1.12 support for 64-bit environments enhances engineering productivity when working with large applications and visualizations. In addition, all controllers include enabling of embedded OSA multicore processors that allow independent tasks to run on separate processor cores, reducing overall application cycle time.
Enhanced User Security Tools
In addition to the embedded authentication and encryption of all Bedrock software, users can now also configure username/password requirements for critical system functions like updating the firmware, setting the time, rebooting, and configuring the network interfaces. This method of role-based access control (RBAC) for system functions assists with implementing security best practices and strengthens a user's OSA cyber posture.
Download the Bedrock IDE 1.12 for free here.
About Bedrock Automation
Bedrock Automation, based in Boston Mass., has developed the world's most powerful and cyber secure automation platform. Bedrock has assembled the latest technologies and talents from the automation, cyber security and semiconductor industries to build unprecedented automation solutions for industrial control and power based on three prime directives: simplicity, scalability and security. The result is an award-winning automation platform called Open Secure Automation (OSA®), with a revolutionary architecture and deeply embedded ICS cyber security, that delivers the highest levels of system performance, cyber security and reliability at the lowest life-cycle cost. Build on Bedrock®!