Bringing OT and IT together
Featured Product from Bedrock Automation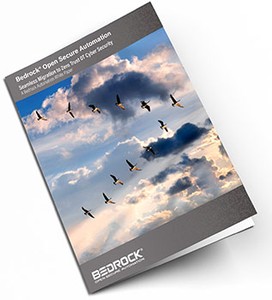 White paper: Seamless migration to zero trust OT cyber security
Transitioning economically to IIoT-ready PLCs and DCS controllers that have cyber security built in.
How do you transition your aging oil and gas, water/wastewater or other industrial process automation to modern, cyber secure controls without downtime?
This white paper shows how it may be easier than you think. It steps you through a simple swap out process that can get you to digital transformation at your own speed.
Learn about:
Migrating to intrinsic cyber security, economically and with minimal disruption

Bringing OT and IT together with zero cost IEC 61131-3 IDE tools

Exchanging data from field devices to SCADA interfaces via radio, securely

Leveraging 64-bit data processing
Folllow us on
What our Partners have to say>>>Watch Now
People are talking about Bedrock Automation and our revolutionary industrial control system. Listen to what our founding Solution Partners have to say about our product and company!
Bedrock Automation
Bedrock Automation has developed the next generation industrial control system with a revolutionary electro-magnetic backplane architecture and deeply embedded cyber security for the highest levels of system performance, security and reliability at the lowest system cost. Bedrock started with a clean sheet of paper just a few years ago and re-imagined how a modern industrial control system should be designed: Simple Scalable Secure
Welcome to the School of Bedrock!
Here, we offer free online training courses to learn the basics of Bedrock Open Secure Automaton for initial certification. These online courses cover a lot of ground, from an introduction to our intrinsically cyber secure hardware platform and free IEC 61131 software environment to some of our advanced capabilities and more. Go at your own pace and enjoy learning how Open Secure Automation works to improve efficiency, performance, and cost.
Featured White Paper Series
With a blank sheet of paper and few technological constraints, Bedrock Automation has re-imagined every aspect of automation.

Case Studies