Smart, Cyber Secure UPS is also EMP certified
Featured Product from Bedrock Automation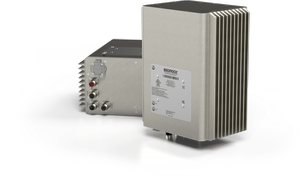 Bedrock Automation's UPS.500 lithium-ion uninterruptible power supply (UPS) has achieved compliance with Military Standard 461 (MIL-STD-461E) and International Electrical Commission 61000 (IEC 61000) for electromagnetic pulse (EMP) resistance without secondary containment.
The UPS.500 can supply 24 V DC 12Ah of power to any industrial control system. An onboard secure microcontroller controls the Li-Ion polymer battery cell-by-cell, augmenting the high density, rapid charging, extreme temperature tolerance, and extended life that characterizes Li-Ion technology.
Bedrock is the first – and still the only – industrial control system to have received mil-spec level certification for EMP resistance and extends this to its standalone power supplies and battery backup system. National Technical Systems, an independent military and industrial testing firm, conducted test RS105 for radiated susceptibility to a transient electromagnetic field. The power supplies were tested separately, each receiving repeated 50,000 V/m nanosecond EMP strikes that emulate the energy of a High-Altitude Electromagnetic Pulse (HEMP), as would be created by an atmospheric nuclear detonation. The Bedrock power supplies performed without error and without consequential damage during and after the test.
Bedrock Automation's patented, built-in cyber security works transparently inside the UPS.500 to ensure authentication of the UPS hardware, firmware, software, and communication throughout its entire product lifecycle. While some other industrial UPSs have onboard digital electronics, none offer comparable performance, diagnostics and cyber security in a single product offering. More than 30 diagnostic variables can be easily monitored, trended, alarmed and historicized via SCADA, enterprise and cloud applications securely.
Secure 10/100 Mbit Ethernet IPv4/IPv6 communications also supports an embedded IEC 62541 — OPC Unified Architecture Server. Bi-directional communications enable control, diagnostics and status reporting.
Encased in a thick-walled, sealed aluminum housing, the UPS.500 is compliant with IP67 and NEMA 4X standards for resistance to water, ice, oil, and dust. This contributes to its versatility in secure IIoT edge deployments, while reducing installation costs by eliminating the need for separate environmental protection enclosures. The ruggedized footprint of the UPS.500 makes it shock and vibration-proof – ideal for use in extreme environments. UPS.500 is securely made in the USA and comes with a 5 year warranty as well.
The UPS.500 certification document is available at http://tinyurl.com/y9d9olul. For more information about how Bedrock Automation has incorporated EMP protection into its intrinsic cyber defense, download the: OSA White Paper, Chapter Two, Empowering Power at www.bedrockautomation.com/revolution.