Ceramic Fiber Packing for Thermal Insulation
Featured Product from Beijing Tianxing Ceramic Fiber Composite Materials Corp.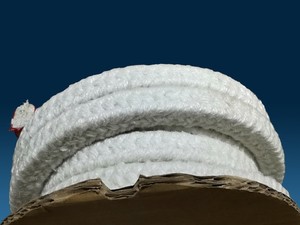 Besides, there are coated ceramic fiber square braided rope,Ceramic fiber square braided rope with blanket core and so on.
Characteristics
Excellent abilities of heat resistance and thermal insulation.
Strong tensile strength.
Easy to be processed.
Applications
Thermal insulation on the surface of high temperature tube.
Thermal insulation and sealing in high temperature areas of mechanical equipment.
Specification Range
Side length (mm) 6~100
Classification temperature(Celsius degree) 1260
Standard Spec
Side length (mm) Length (m)
6.4 30
9.6 30
12.7 30
15.9 30
17.5 30
19.1 30
22.2 30
25.4 30
31.8 30
50.8 15
Reinforced materials
Glass fiber
Glass fiber + stainless steel wire
Glass fiber + Fe-Cr-Al alloy wire