Fiberglass Sq. Braid Rope for Thermal Insulation
Featured Product from Beijing Tianxing Ceramic Fiber Composite Materials Corp.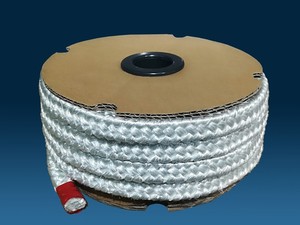 Characteristics
Excellent heat resistance and insulation.
Excellent thermal insulation and heat preservation.

High strength, anti-corrossion,aging resistance.

Graphite coating improves sealing performance.
Applications
Furnace door sealing.

Thermal insulation, sealing and electrical insulation in electric and machinery equipment.

Sealing valve, pump and heat exchanger.
Specification Range
Side length (mm) 6~100
Maximum temperature 600 ?
Standard Spec
Side length (mm) Length (m)

6.4 100
9.6 50
12.7 30
15.9 30
17.5 30
19.1 30
22.2 30
25.4 30
31.8 30
50.8 15