Fiberglass Tape for Thermal Insulation
Featured Product from Beijing Tianxing Ceramic Fiber Composite Materials Corp.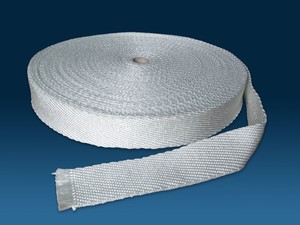 Characteristics
Excellent heat resistance and electrical insulation performance.
Excellent thermal insulation and heat protection performance.
High strength, anti-corrossion, aging resistance.
Applications
High temperature pipeline thermal insulation and protection in industrial equipment.
Heat insulation and protection in the pipeline of vehicles and other transportation tools.
Thermal insulation and protection in electric heating wire, heating element, cable, etc.
Specification Range
Width mm 10~300
Thickness mm 0.5~6.4
Standard length m 30
Maximum temperature (Degree Celsius) 600
Standard Spec
Thickness mm Width mm Length m
1.5 25 30
1.5 50 30
1.5 75 30
2 25 30
2 50 30
2 75 30
3 25 30
3 50 30
3 75 30
Weave
Plain
Twill