Silica blended cloth for thermal insulation
Featured Product from Beijing Tianxing Ceramic Fiber Composite Materials Corp.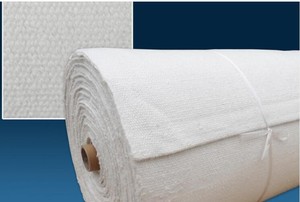 Characteristics
High temperature resistance,thermal insulation,low thermal conductivity.
Can insert steel wire,strong tensile strength?never break when to be folded randomly.
Applications
Thermal insulation and heat preservation in all kinds of mechanical equipment and external pipelines.
Can be made into welding cloth,fireproof curtain, fireproof clothing, fireproof glove,fireproof shoe cover, heat preservation cover,heat preservation quilt,etc.
Specification Range
Width (mm) 300~1500
Thickness (mm) 1.6~6
Standard length (m) 30
Maximum temperature(Degree Celsius) 1000
Standard Spec
Thickness×Width×Length
2mm×1000mm×30m
3mm×1000mm×30m
5mm×1000mm×20m
6mm×1000mm×20m
Reinforced materials
Glass fiber
Glass fiber+stainless steel wire
Glass fiber + Fe-Cr-Al alloy wire