Digital Electricity (TM) Class 4 Cable
Featured Product from Belden Inc.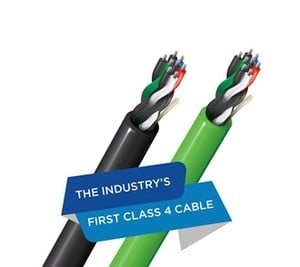 Belden Digital Electricity™ Cables allow end-users to take advantage of Digital Electricity, safely providing lots of power over long distances. The cables were designed in conjunction with VoltServer, the creator of Digital Electricity, to ensure that they will support applications in all situations. Cables are available in hybrid copper/fiber constructions to transmit power and data over long distances in a single cable run. The latest additions to the Digital Electricity™ Cable line are the hybrid cable versions for indoor and indoor/outdoor 2 mm breakout plenum cables.
Features & Benefits
Deliver Power Across Long Distances: 20x more power or distance than PoE with up to 2,000W across a reach of up to 2 km
Support New Technology: Ideal for distributed antenna systems, passive optical networks (PONs), security cameras and wireless access points; can be used for indoor (plenum and riser), outdoor and overhead-burial applications
Cost Effective: Electricians aren't needed for cable installation; current Class 4 Certified cables include the DEDN and DEWN product families
Safe Power Delivery: Digital Electricity power sensing technology makes Class 4 systems just as safe—if not safer—than Class 2 and Class 3 systems
Improve Electrical Performance: Stranded copper pairs design maintains flexibility and performance during installation