HVAC Pipe Package
Product Announcement from Belimo Americas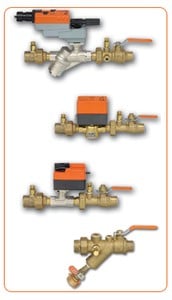 One point of ordering providing you with a reliable solution and no additional shipping to another location for assembly
100% tested and QUICK delivery at no additional cost
Belimo pipe package software enables you to quickly and easily choose the correct solution
5-year warranty on CCV and PICCV packages
Reduce time, space and cost
The Belimo Pipe Package is a simple way of piping HVAC terminal units that reduces the time, space and cost required to make the connection from the distribution piping in the building to the coil. To efficiently accomplish this, Belimo is offering combination valves and unions created to interface with an HVAC terminal unit.
Belimo offers the valve, actuator and all components assembled and tested.
The pipe package is designed to have valve isolation. This allows for the removal of the valve without having to drain the entire system. With a 5-year warranty on all PICCV and CCV packages and a 2-year warranty on Zone valve packages, Belimo matches the warranty of the piping package to the warranty of the valve.
Connections: female NPT, male NPT or Sweat
Pressure rating: 400 psi
Temperature rating: 250°F (212° for Zone valves)
Material of body: forged brass
Readout port seal: Nordel®
Gasket: EPDM
Standard sizes: ½", ¾" and 1"
Custom sizes: 1¼", 1½" and 2"
FREE Identification tagging on every order
---